Google Ads (formerly AdWords) is very probably the ultimate channel for your website marketing. With pay-per-click (PPC) marketing users have the advantage of sophisticated tracking functionality meaning it really is possible to track your return on investment (ROI). – Being able to track the cost of an enquiry or on-line sale makes a huge difference to the management of your marketing budget.
Radical Digital build, manage and review the best possible Google Ads account to help you establish or grow your on-line business.
In the ever changing world of internet marketing, we implement the latest features and enhance your campaigns constantly, meaning that you stay ahead of the competition.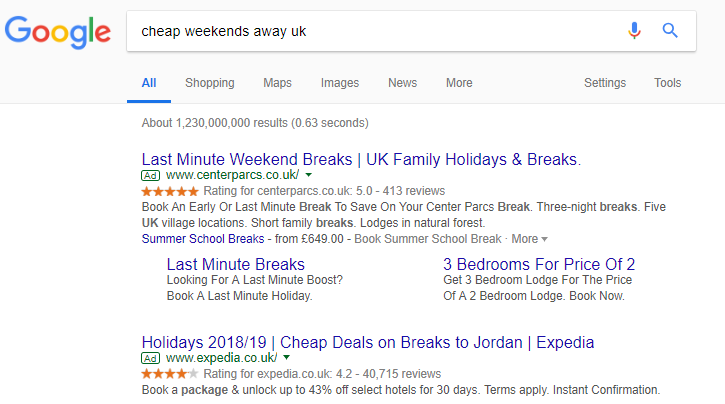 The way Google Text Ads work is simple:
People use keywords (or search terms) to search for specific products and services
If the keywords you've chosen match what people search for, your paid ad appears next to or above organic Google search results
When people click on your ad, they'll be taken to the landing page on you website to find out more, submit an enquiry or buy on-line.
THE BIG ADVANTAGE IS THAT PEOPLE ARE ACTUALLY SEARCHING FOR YOUR PRODUCT OR SERVICE RATHER THAN SIMPLY SEEING A DISPLAY AD ON FACEBOOK OR GOOGLE, WHILST THEY ARE LOOKING AT SOMETHING ELSE.

Google Ads should always provide positive return on your investment and at Radical Digital, we have experience in a wide variety of different industries. You will have a Dedicated Account Manager that has the Google certification, so you can be confident in our ability to provide positive results.
So many companies and sole traders are literally throwing money away on Google Ads by not knowing how to best utilise this fantastic facility.
A hit and hope methodology just won't work. We research, we analyse, we improve to ensure you get the best possible ROI on every penny you spend.
It's time to change and we can help.
We have managed budgets ranging from £300 to £50,000 per month.
Detailed Keyword Research
Competitor Analysis
A/B Testing
Conversion & Goal Monitoring
1 to 1 support
 Monthly reporting
Landing Page Optimisation
Geo Targeting
Ad Scheduling